Create a Landing Page For Startups
Identifying the best landing page creator for startups with speed as the primary focus.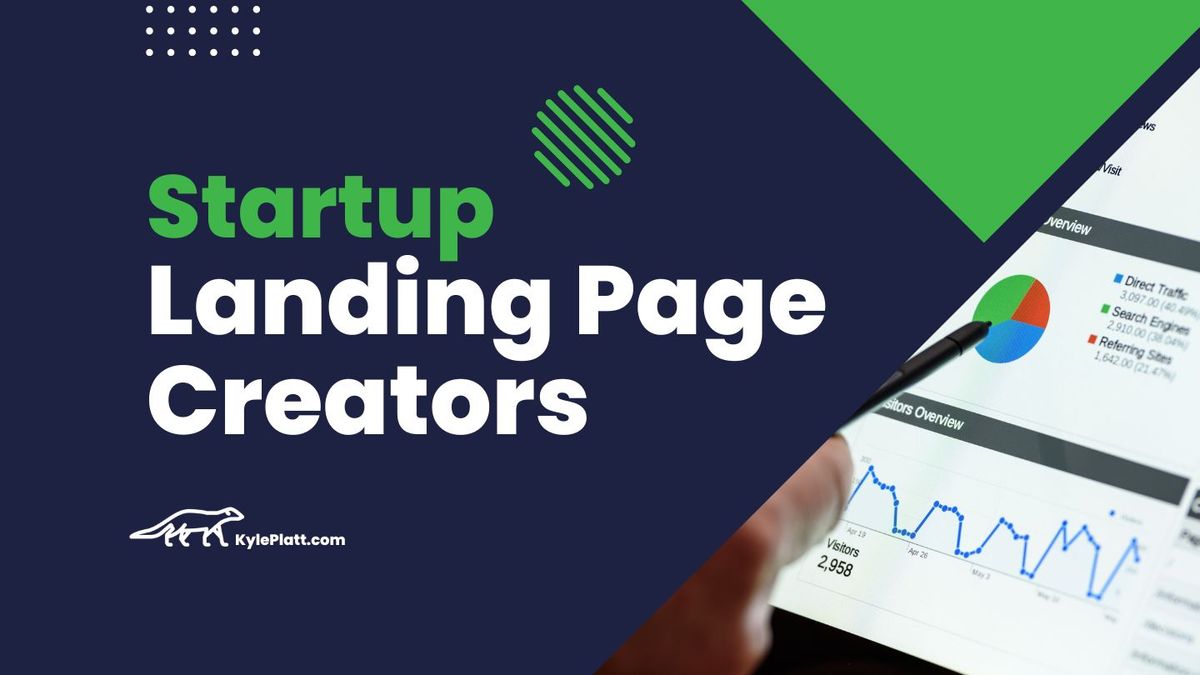 Landing pages are an incredibly important tool in today's digital landscape and this is especially true in the startup world. Typically, a landing page is used for digital marketing, often for a very specific marketing campaign where you align the entire funnel in terms of design and wording. It is the 'landing' spot for your prospective customers and holds a ton of power in whether they make a decision to move forward with your product or not.
I talked in detail about building an internal tool for our team around the concept of landing pages and opted not to move forward with it because there is a nice variety of tools already in the market. If you are curious about that, take a look here and see how we used our startup pre-mvp validation process: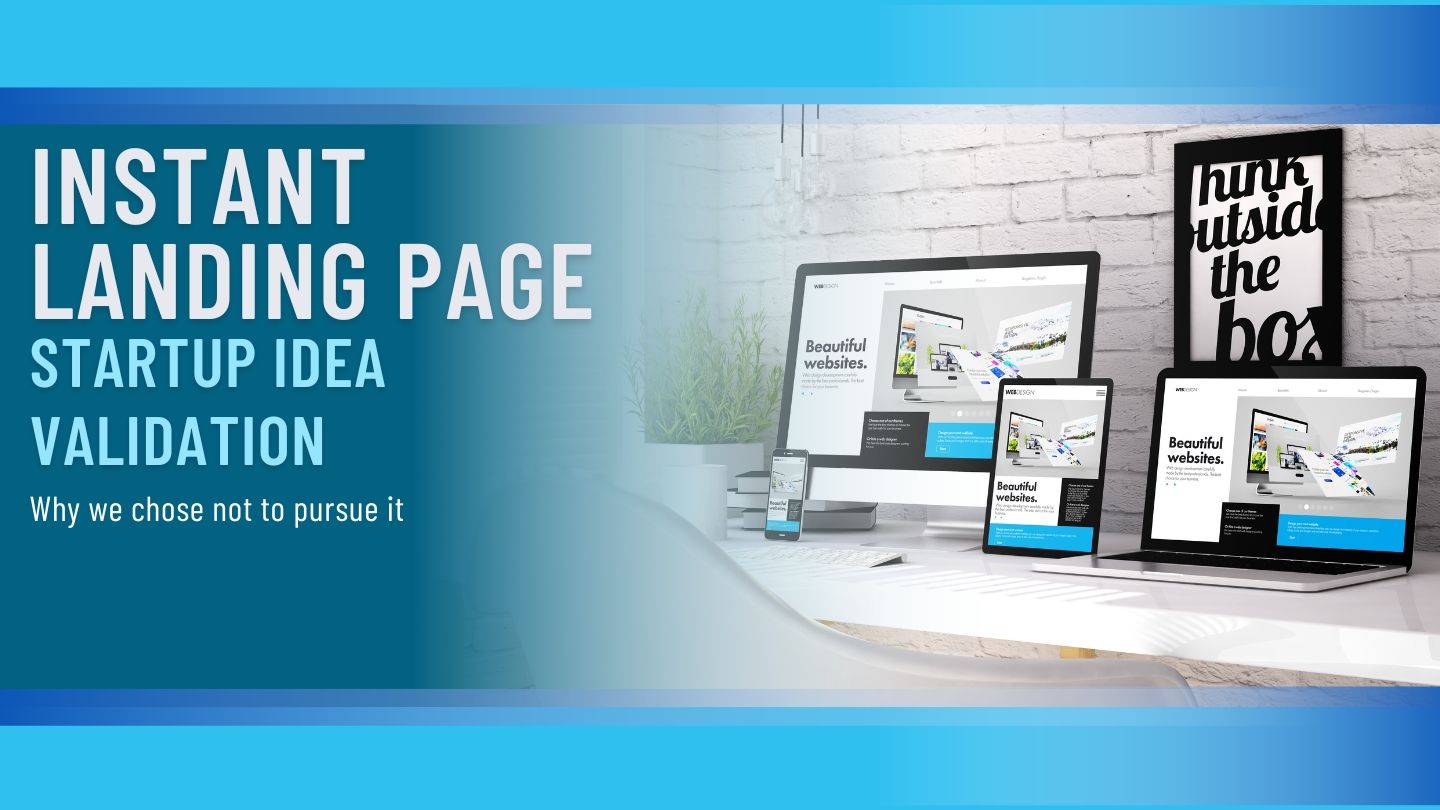 What Makes A Startup Landing Page
Honestly, all of the tactics and tips you see for regular landing pages apply to a startup's landing page. You want compelling messaging that resonates with your target audience. Hubspot has good resources on lots of things, including landing pages:
Important Considerations With a Landing Page Builder for Startups
There is one rule in the startup world that I think trumps all. Speed. Speed of creation to be more specific. The faster you can go from idea to live landing page the better. Going forward I will be talking about landing page creation in the context of being able to create them very quickly and how any recommendation enables that.
I am considering two major use cases for landing pages:
General Marketing - Exactly as we described in the intro. This would be a page that you create for an established product or idea, where you are refining and building new marketing funnels. For example, say you have a large saas tool that handles startup accounting. The home page needs to be fairly general as the tool accomplishes a lot. Maybe you start running an ad campaign that is around the pain point of accounting complexity. Those ads would push to a landing page where all of the messaging, graphics, and design would be driven from solving the complexity pain point. So it is significantly more specific than the main page.
Idea Validation - Building a landing page before the product exists is one of the most valuable things you can do when validating your startup ideas. You can drive traffic to it and see if people are engaging with your messaging and ideas, and even get early conversions in the form of sign ups, emails, etc.
Reviews - Landing Page Creators For Startups
I started the process from scratch on a free account to see how it would go. I just grabbed the first template and altered a few things. You can see the result here.
Total time: < 5 minutes
Pros
More than 20 free templates to choose from, some of them look pretty nice.
Fairly Quick
Free version
Lots of supporting documentation
Hubspot ecosystem is incredibly powerful and connective
Familiar builder
Gives you SEO suggestions and helps you optimize
Cons
When new to the product and publishing I get "One of your modules has incorrect information. Please make sure you've completed any required fields." It did not do anything to help guide me to that incorrect information. Turns out it was adblocker conflicting with it, but even turning that off the UX here was poor
Requires immediate sign up
Free domain looks spammy
Free product has hubspot banner on page
Verdict: If you already use or are already thinking about using the Hubspot ecosystem for other things this is a solid product. It should integrate nicely with funnels you create in their marketing and sales offerings. If all you care about is landing pages I would look at alternatives as the pricing is too high just for those features.
---
Total time: 5-10 minutes
Pros
100+ templates
Familiar builder style
Nice built-in stats
AI suggestions
Cons
Google sign-up did not work for me
Requires credit card and billing address before using
Expensive
Domains limited (and locked behind pricing tiers)
Verdict: Stay away. I dock marks harshly for tools that lock 'free trials' behind paywalls or credit card entry and then make you go and cancel. As a result, the sign-up process takes much longer than it should (even though it's just a one-time sink). The actual landing page creation speed is in line with the other no-code builders.
The real reason you see Unbounce promoted everywhere is because they have solid affiliate marketing and all these places/people are making money by pushing you to them. Look at their pricing model: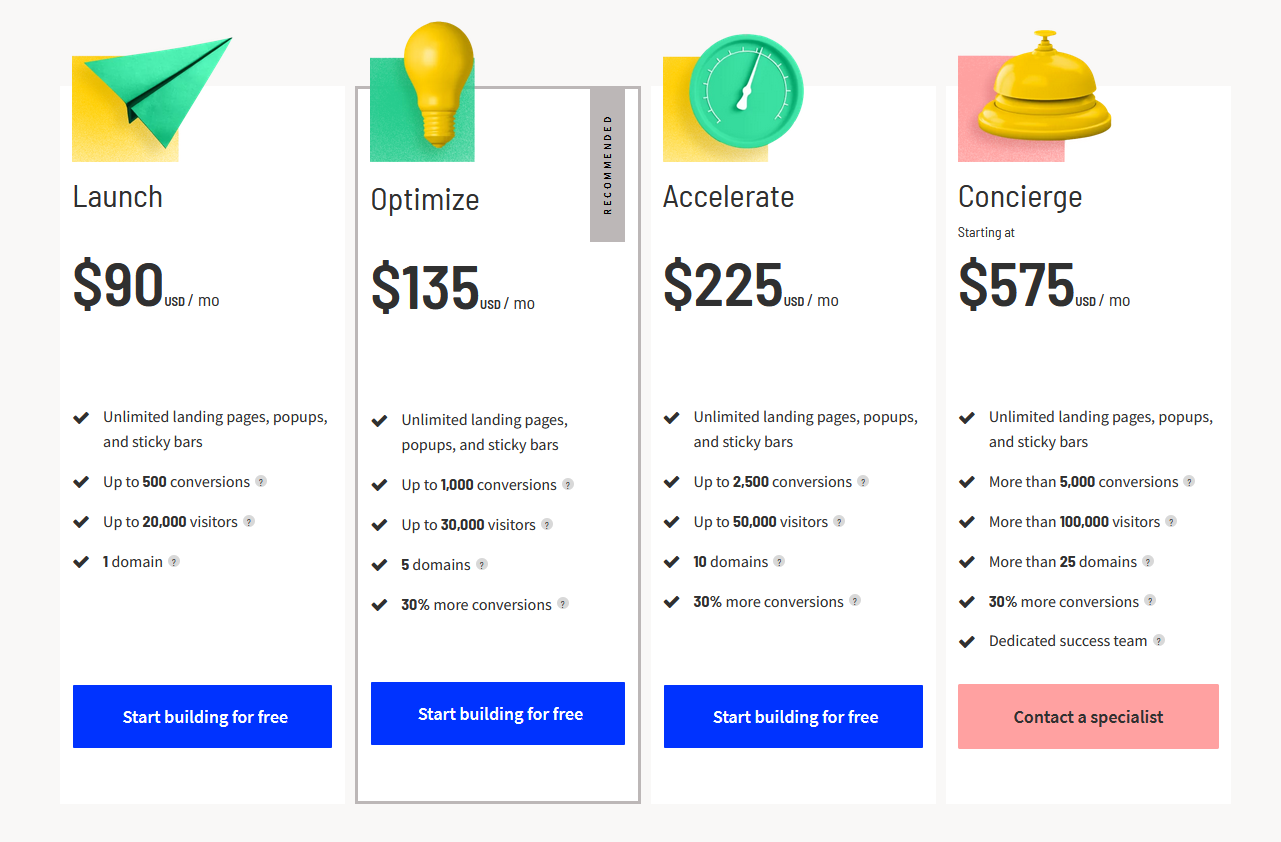 At their cheapest option, which is a whopping $90 a month, you are locked down in some key areas. If you are making lots of landing pages for a single product, then most likely you have an established website and ideally a good way to build/add to that website (i.e. a Wordpress or Wix solution) and that is typically cheaper than $90/m. Even in that scenario, you are capped at 500 conversions which is very low. In our #2 scenario, where you are testing multiple startup ideas, you may get blocked by the domain limitations.
I am assuming much of the pricing goes toward the AI functionality. You can find better tools to use alongside your landing page creator such as Jasper.
---
For me, Carrd is my current favorite. The speed of set up is unparalleled combined with how cheap it is. Here is a nice test page I created.
Total time: < 3 minutes
Pros
Great control of your URL
Incredibly quick to use
150+ templates. Many are similar but there are some truly nice ones in here with full-on animations
Free version
UI/UX is very easy to use
Free version Carrd banner is the smallest and least noticeable of all the tools
So very cheap
Pages are very simple
Cons
Stat tracking is mediocre at best, will need to add google analytics or similar
Forms are locked behind a paywall
Pages are very simple (yes some people need more control and features)
You need a stable of other tools to make up for features seen in its competitors
Verdict: Must use. It is incredibly quick and very effective. It is my current go-to. Take a look at the pricing if you want to upgrade from the free tier as well: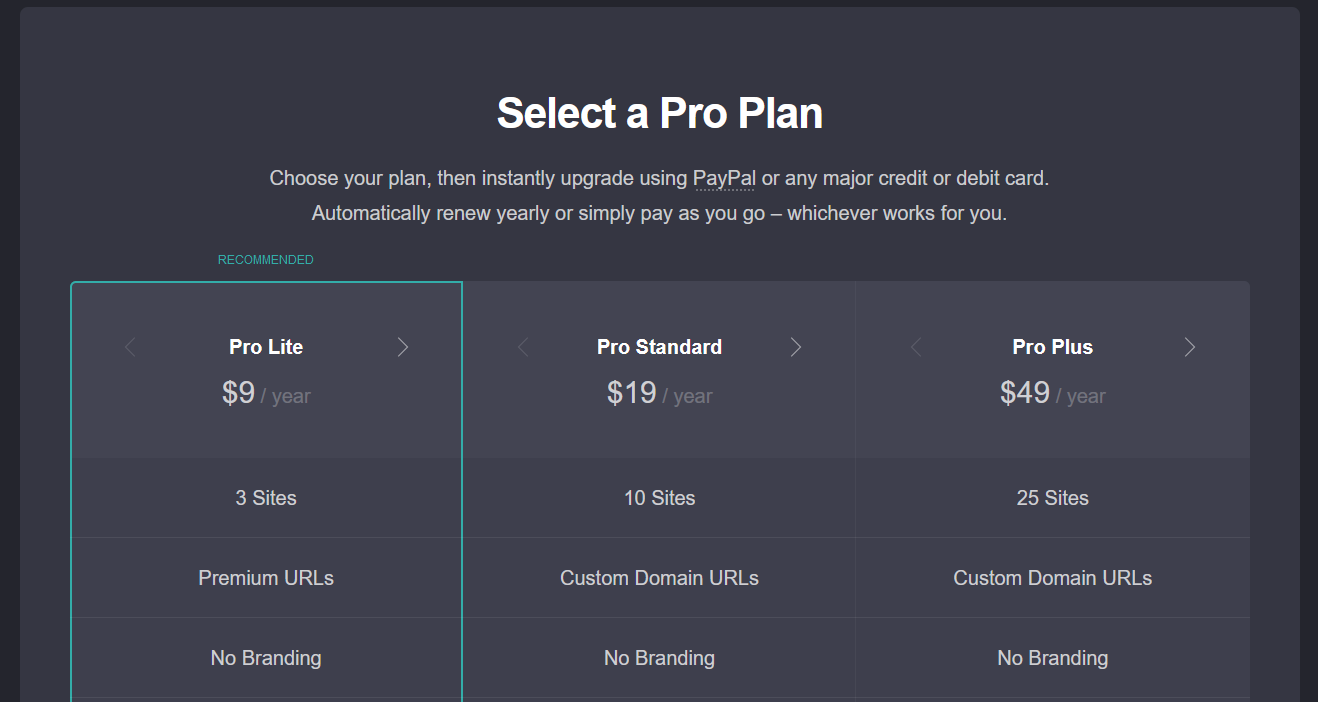 That is pricing per year, not month, in case you overlooked it. As you scale up site count it gets more efficient ranging from $3 per site per year to less than $1 per site per year.
They even have a super quick but effective onboarding once you select a template. This tickles my video gaming bone for sure.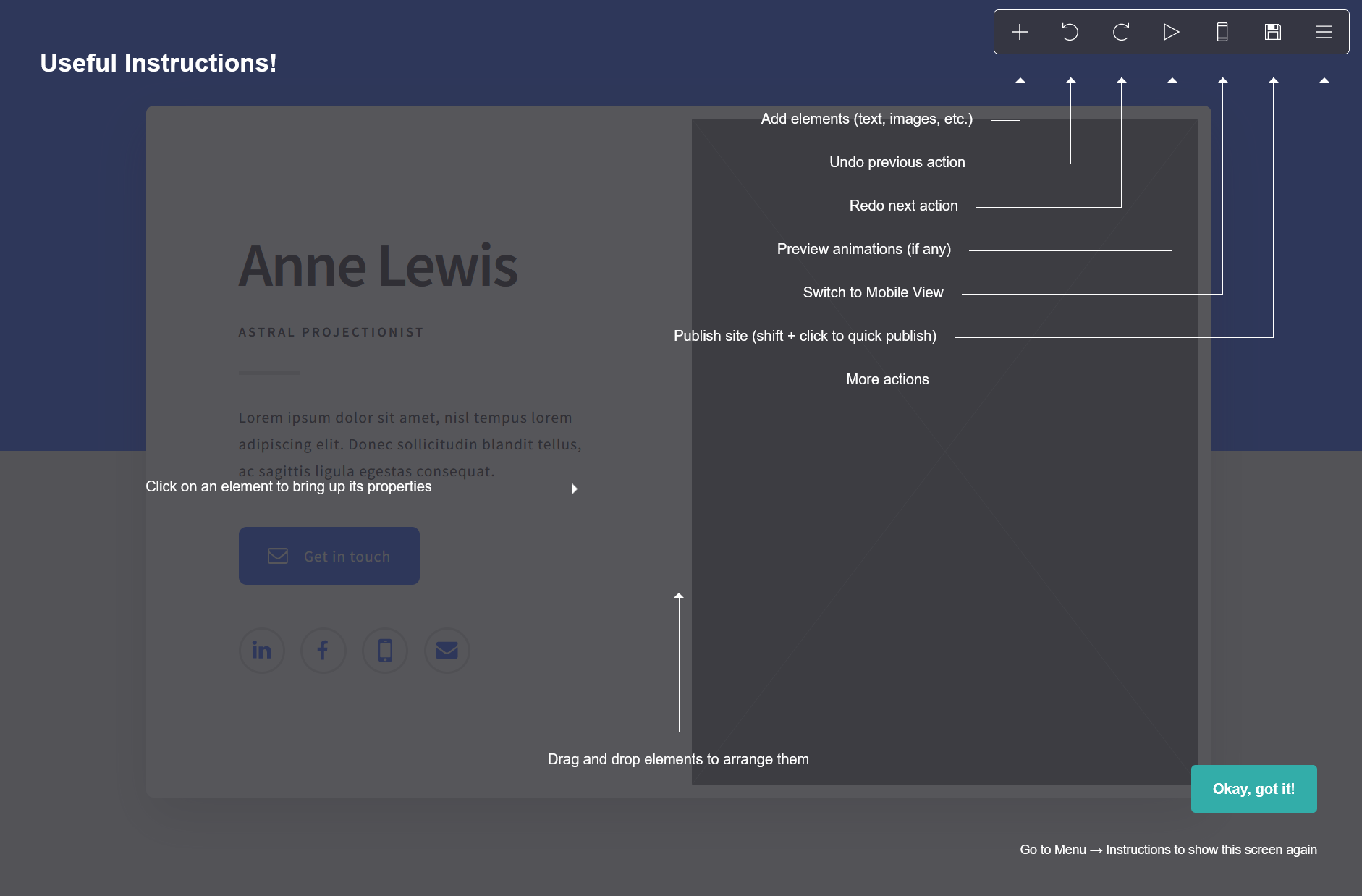 ---
Sign up process takes some additional information to presumably cater the setup and UX process to you. Here is a quick sample page I created.
Total time: < 5 minutes
Pros
Over 50 templates (mixed bag here but definitely a few nice ones)
Built in analytics and several integrations
Customization on email subscription conversions
Free model with fairly generous abilities
Cons
Pricing model is subscriber driven, can scale poorly
Free product has ConvertKit banner on page, much more discrete than Hubspot though
Verdict: Convertkit is a win in my books, I recommend it. Especially as a startup landing page creator. It is very quick to use and hand holds on a few things you may not think of, which is useful. The reporting capabilities are some of the best I have seen. The entry-level pricing is very approachable (and the free model is genuinely useful) but scales not as effectively as you grow. At the lowest level it is $9/m for 300 subscribers then jumps to $25/m at 1000, then $100/m at 10,000 and so on. The pricing still crushes something like Unbounce though.
---
Wix is a decent, well-established, tool that can be leveraged to create landing pages. I wanted to include it here as it has a strong case for solving scenario #1 where you have an established site and are adding marketing funnels in the same design over time. It does a terrible job of tackling scenario #2 where you need lots of landing pages for different things.
Total time: > 15 minutes
Pros
Can build full websites
Has free plan
Cons
Because it does so much, focus on landing page functionality is minimal
Site is slow to use
Bulky UI/UX
Verdict: Honestly, I didn't feel like spending any more time here. It seems fine as a full website builder but for the startup-focused individual, I think this is a miss. This isn't too surprising as it is a website builder first and foremost. If you are already set up in Wix and are familiar with its UI, then it's a viable option. If you are starting fresh and are focusing on landing pages, I would look elsewhere.
---
Wordpress is like Wix in many regards. A full-on website builder where you have a lot of control and can do basically anything. You can even self-host Wordpress sites.
Verdict: This is in the same boat as Wix at an initial glance. If you are already in the Wordpress ecosystem, then it is a fine generalist tool to use. The main power of Wordpress is its many plugins, I expect there are some good instant landing page generators that I need to dig deeper into, which is why this section still exists.
Best For Quick Idea Validation
You could probably have guessed this one. The speed and cost make it an easy win for quick startup idea validation landing pages.
Best For Longer Term Marketing
Use your own website. Whether it is self-created or through one of the website builders, you are going to want control. It is important that you set up a process that allows you to create landing pages very quickly though. If you are hitting roadblocks here, then I would suggest considering a migration to another service, maybe one of the no-code builders where you can leverage templates or set up themes.